Macon Whoopees
"Another season, another reason, for makin' whoopee." While Doris Day may have planted the seed, it was a public relations man on New York's Madison Avenue that actually suggested the name to Jerry Pinkerton, the man with a dream to own a hockey team in the deep South.
The Southern Hockey League was one of two leagues that were formed in early 1973 after the demise of the Eastern Hockey League. In the inaugural season, there were six teams, the Charlotte Checkers, Greensboro Generals, Suncoast Suns (St. Petersburg, FL), Roanoke Valley Rebels, Winston-Salem Polar Twins and the Macon Whoopees.
Macon had long been on the radar as a home for a minor league hockey team since the completion of the Macon Coliseum in 1968. It was the first facility constructed in the state of Georgia that had the capability to host professional hockey, with seating for over 7000. With the NHL coming to Atlanta the previous year, Pinkerton undoubedly believed the time was right.
Click on the photos below to see a description of the item.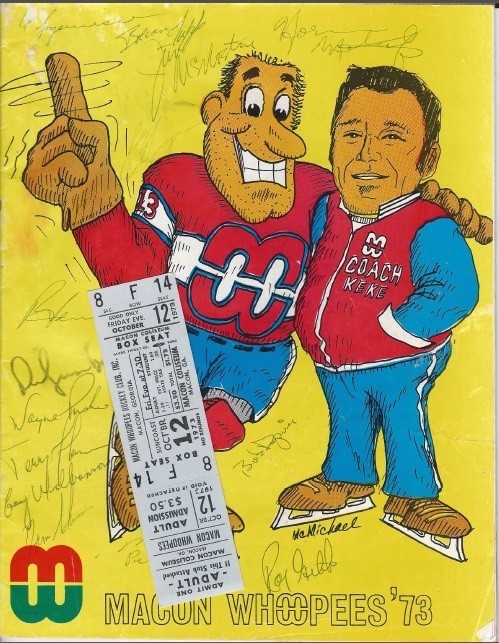 Jerry Pinkerton's dream, unfortunately, was woefully underfunded. The Macon Whoopees compiled a record of 22 wins, 38 losses, and 2 ties prior to folding on February 14, 1974 after playing just 62 games. Ed Grisamore and Bill Buckley's book "Once Upon A Whoopee: A Town, A Team, A Song, A Dream" details the short history of the team.
The Whoopees had affiliation agreements with both the Houston Aeros and Cleveland Crusaders of the World Hockey Association. The team was led by 39 year old player/coach Keke Mortson, who played in 67 games with the Aeros in the WHA's inaugural season. Mortson, a career minor leaguer and colorful character, was the team's leading scorer, with 24 goals and 51 assists in 59 games. Mortson is probably best known for being the first hockey player to wear the number 99. Goaltender Ron Grahame played his first season of pro hockey in Macon and went on to play in 114 games in the NHL.
To view team stats from 1973-1974, click HERE.
To watch an interview of Dan Jaskula, veteran Middle Georgia broadcaster and a Macon Whoopees season ticket holder, click HERE.